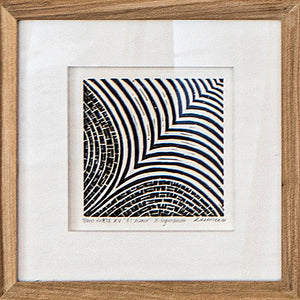 Xilograbado sobre cartulina Canson Montval de 300 g. impreso en técnica manual (cuchara de madera)
obra 10 x 10 cm /  3.9 x 3.9 in
Con marco: 20 x 20 m / 7.8 x 7.8 in 
2021

PART XV
woodcut print on Canson Montval paper of 300 gr. printed with the manual technique  (wooden spoon).
artwork 10 x 10 cm /  3.9 x 3.9 in
with frame: 1,20 x 0,70 m / 47.3 x 27.5 in 
2021
Consta de un conjunto formado por un Xilograbado de 1m. x 0,50 titulado "El Todo" compuesto por 50 impresiones formando un todo y debajo un grupo de 21 xilograbados de 10 x 10 cm agrupados en 3 filas de 7 grabados y numerados como "Parte I, Parte II y así sucesivamente hasta llegar hasta "Parte XXI"
Hace referencia al axioma: "El todo es más que la suma de sus partes" enunciado por Aristóteles en su libre Metafísica (libro 7mo.) y que a la vez constituye el principio fundametal de la psicología de la Gestalt. El "Reseteo" mundial que sufrimos hace más de un año nos obligó a enfrentarnos con uno los principales problemas de la actualidad: El individualismo. Nos convertimos en "parte del problema" y a la vez parte fundamental de la solución aportando datos y sumando esfuerzos, pero no sólo "sumando" sino por un proceso de factorización o fusión, percibiendo así la realidad como una totalidad significativa y no como algo aislado.